Our Skillful Techs Brought Back the Shine to This Lackluster Travertine Floor in Seattle, WA, With a Superb Stone Polishing
September 30, 2023
Travertine is an excellent choice for any area in the house. This natural stone is gorgeous, but without proper care, it can become dingy and unsightly. However, maintenance might not be as easy as it sounds. There are issues that common methods can't address, and oftentimes, the solution requires more than a store-bought cleaner. A couple from Seattle, WA, had a beautiful travertine floor. Unfortunately, the surface had deteriorated, and it looked dull and unappealing. The owners performed regular cleaning, but nothing they tried worked. After considering their options, they decided to look for professional assistance.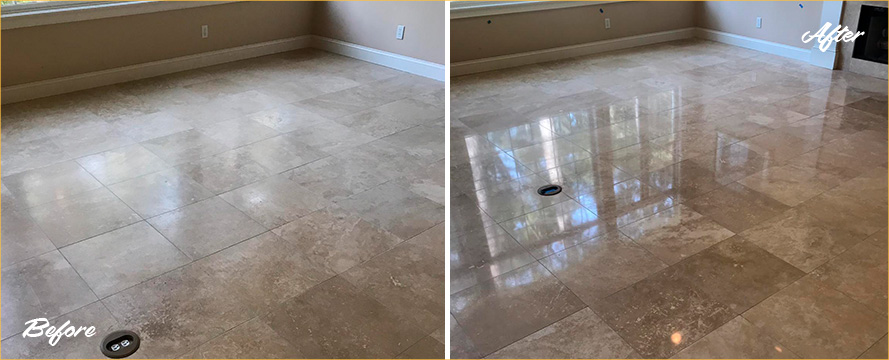 Hoping to solve their problem quickly, the couple went online and searched for
stone polishing services in Seattle, Washington
. Thankfully, the top results of the search led them to Sir Grout Seattle. On our user-friendly website, they browsed a few of our blogs, and read our helpful maintenance tips. After extensive research, they were convinced we were the best option, so they contacted us and asked for a free evaluation.
A few days later, we arrived to provide the in-home consultation. The owners welcomed us and we promptly began the assessment. Upon entering the area, we noticed the travertine floor had a lackluster appearance. The surface had endured years of wear and tear, and it had decayed. As a result, the stone had lost its beauty, and it was etched and dull. To add to this, it was unsealed. We explained these kinds of surfaces are vulnerable to damage, and the floor was exposed to all sorts of external agents, which can lead to more problems. To prevent further deterioration, it was necessary to apply a special sealant.
The issues had been discerned, so we had the insight to discuss a solution with the owner. Since we had determined the restoration would require professional treatment, we offered our stone polishing services. With our top-notch process, high-end equipment, and marvelous products, we would address the damage, revamp the floor, and bring back the shine to the stone. Before providing a quote, we performed a brief test to prove the efficacy of our methods. The owners found the results breathtaking, so they decided to hire us and we set up a date for the job.
Soon after the inspection, we returned to the house, ready to restore the floor. Once we prepared the equipment, we proceeded with the thorough multi-step process. First, we cleaned the surface using our exclusive stone-safe cleaner. Our product is made with top-quality ingredients and it doesn't leave a residue, so it won't cause any damage. After scrubbing out the soiling, it was time to hone the stone.
This procedure was necessary to address all the damage. To accomplish this task, we used our professional diamond honing pads and ran several sets, each with an increased level of grit. We continued grinding until there was no sign of deterioration. After honing, the stone acquires a matte finish, so we polished it using high-end polishing powders to achieve the desired level of gloss. When we finished, the surface had a nice and beautiful shine. For the final step, we continued with the sealing process.
For optimal results, we applied a coating of our protective sealer. Our product provides remarkable defense and long-term results. It wards off dirt, grime, and other external agents, reducing deterioration and making cleaning routines easy and fast. Our sealers also repel UV rays, ideal for areas subjected to solar impact. In addition, the sealed surface is beautifully enhanced, and with proper care, this shield can last for many years.
Our work yielded phenomenal results, the issues had been rectified, and the travertine floor had been fully restored. We were ready to call our clients and show them our achievements. The owners loved the gorgeous shine of the stone. They were very happy because everything looked perfect, better than they had expected. Impressed, the couple thanked us and asked us to come back at a later date to inspect other surfaces in their house.
Natural stone surfaces are durable, stylish, and beautiful, ideal for any area in the house. However, they are not impervious to damage, and they require proper care. Following our recommendations is essential to keep these surfaces in top condition. We suggested setting up a weekly cleaning routine using only pH-neutral products like
Sir Grout's Natural Hard Surface Cleaner
. Our product is undoubtedly the best option in the market, providing outstanding results and many benefits. It is also non-toxic and safe for everyone in the house, including pets.
We don't recommend soap-based cleaners or substances with acidic properties. These products contain harsh ingredients that can have negative effects on the stone, causing problems like etching. They also leave a sticky foam which leads to stains, discoloration, and several other issues. While cleaning the area, always use clean mops, and let the floor dry before entering the room again. Never use abrasive tools because they can damage the travertine.
Is your travertine floor dingy and lackluster? Don't worry, Sir Grout Seattle's stone polishing experts bring back its shine. Leave your hard surface problems behind and contact us today by calling
(206) 833-4949
or by clicking on the "Schedule a Free Quote" button for a free in-home consultation. If you would like to see more, check out our
picture gallery
, and please consider subscribing to our
newsletter
so you don't miss out our latest promotions and updates.